Please follow the below steps to add a Why Choose Us section:
Go to Appearance > Customize > Frontpage Settings> Why Choose us Widget
Click on Add Widget
Add "Text" Widget for Title and description of the section.
Enter Title and description and click done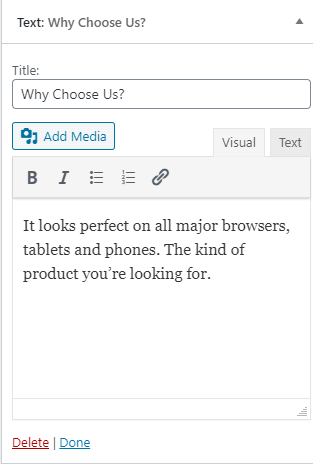 Add "Rara: Icon Text" Widget for entering the Why Choose us items
Under "Rara Icon Text " widget, enter Title, Description, upload an image or choose an icon. Enter Read More Label and Read More Link for each point. Click Done.
Click Add more " Rara: Icon Text" Widgets to add more points.
Click Add Widget and select "Image" widget to add the image on the right hand side.
Click on Publish.